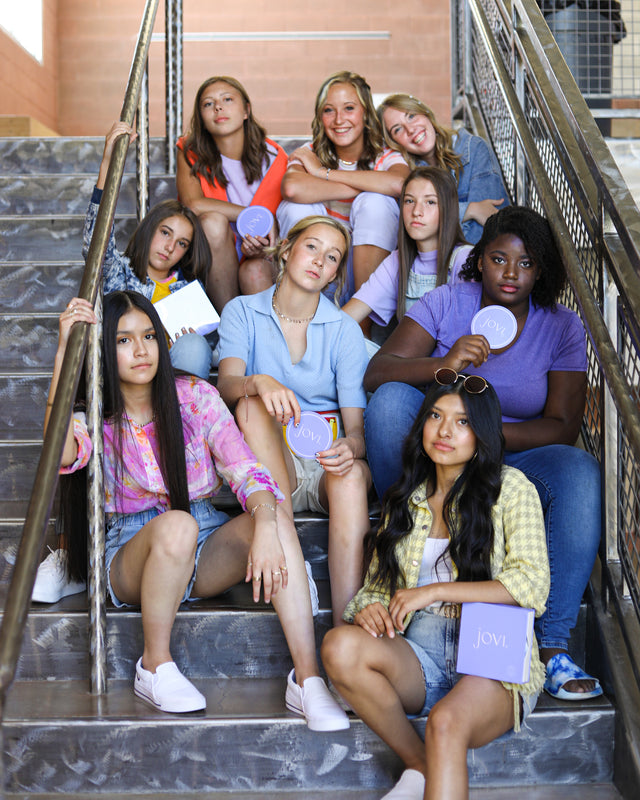 How Do You Talk to Kids About Periods?
81% of women in the Jovi community did not feel prepared for their first period. 
In a recent Instagram poll, we discovered that the overwhelming majority of our followers (81%) did not feel prepared for their first period. Whether it's because of societal norms, parents avoiding the "birds and the bees" talks, or Aunt Flo coming to town way sooner than anyone expected (some of our followers were as young as 8 years old when menstruation started), it's hard to ignore the fact that way too many girls start their periods with feelings of fear and overwhelm. 
So how do you talk to tweens, teens, and younger children about periods?
We asked our community of students, moms, women, and educators to give us their best advice for the next generation of menstruators. This is what they had to say:
B.P (before period):
Upon arrival:
Ready to rewrite the history of menstrual health awareness? Here's some homework for you! 
Talk openly! Periods are NOT taboo. Thankfully we live in a day and age where girls and women are empowered to talk more openly about menstrual health, but this doesn't mean it comes naturally to speak up about our issues! Many women avoid talking to family members and/or medical health professionals about period problems because we assume suffering through our menstrual cycles is just a hard fact of life. Talking openly and honestly about what girls can expect when they start their period is important so they feel comfortable coming to you if and when the going gets tough.


Tell your boys, too. When they know better, they can be better! Talking to boys about periods is important – especially so they can be helpful if they see a classmate in need of support (or a sweatshirt to tie around her waist in case of leaks!). 


Let your little ones in on the information. Let's face it – moms of littles rarely ever get a chance to go to the bathroom by themselves. If your kids ask questions, answer them openly and honestly! Age-appropriate conversations starting when they're young will help make it easier to have the big talks when they get older. 
Do you have any helpful tips for people talking about periods with their kids for the first time? Are you a current student struggling to make it through the day with brutal cramps? Leave us a comment so we can keep these important conversations going!