How to Use
Get up close and personal with your new BFF, Jovi.
Let's skip the small talk and get right down to the nitty gritty: Placement of the patch is key to finding relief! To discover the full benefits of Jovi, you'll first need to find the place where you feel your pain is radiating from.
Once you find the right placement, you'll know it! If you don't experience that ahh-inducing moment within a minute or two, simply move the patch around and try again. Wait approximately 2-3 minutes in each spot as you slowly move Jovi around the area.
Find relief is easy as 1-2-3!
Step 1: Pinpoint the pesky spot!
Locate the source of your pain.
HINT!
it might not be where you think it is! Placement of the patch is the most important step in finding relief. Move the patch around until you feel the magic kick in.
---
Step 2: Place the patch.
Situate the patch directly above the spot of pain. Jovi works by absorbing messages your body is sending out and rerouting them through the patch. The closer to the point of your problems, the better!
PRO TIP!
Some get frustrated in finding placement. All of our bodies are different! We have found that the most common culprit of the patch not working is that it isn't placed in the correct spot.
Be patient the first time using it! Keep moving the patch around and anticipate that it may take time to locate the right spot.
---
Step 3: Power through your day.
Do what you love and feel good doing it! Use Jovi wherever, whenever you need it for drug-free, reusable relief.
Placement Pro Tips
Relief for menstrual cramps
Relief for backaches
Let's cancel those menstrual cramps, shall we? Some women find relief by placing the patch on their abdomen, near the uterus. Others have more success with relief when Jovi is placed on the lower back. We recommend starting with the patch over the uterus and slowly moving it around the body towards your back until you find the correct placement.
Back aches can radiate significantly throughout the body. In other words, your pain might not be coming from where you think it is! To find the source, place the Jovi patch about an inch above where you feel the most severe pain. Give the patch 2-3 minutes to start and slowly move it around the area, an inch at a time, until you start feeling relief.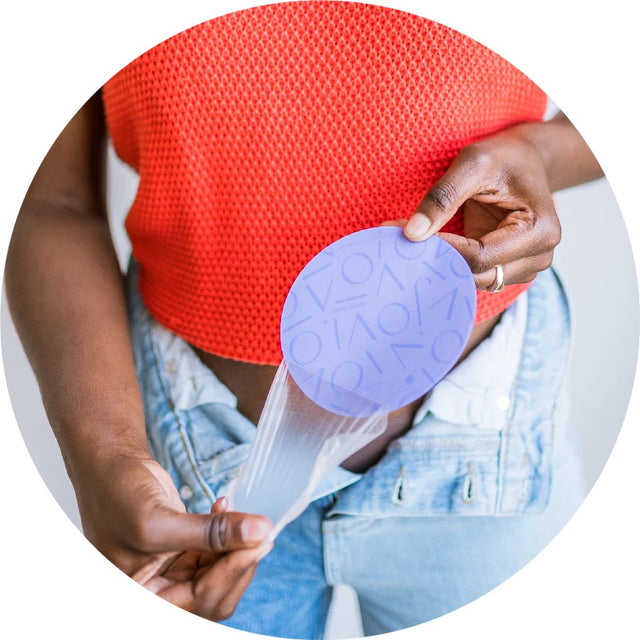 Stick with us, babe.
Jovi comes with 5 latex-free gel adhesives so you can wear your Jovi anywhere without the risk of dropping it down the toilet (IYKYK).
While the adhesives are great, they aren't necessary for relief! If you're sensitive to the sticky stuff, you can also secure Jovi using medical tape or place it inside your favorite pair of leggings, underneath a sports bra, or wherever else it feels comfy while still having easy access to your skin. The options are literally endless!
---
Jovi is your most low maintenance friend.
Simple ways to get the most out of your Jovi patch.
THE DO'S
DO: Find the best placement of the patch before you stick the adhesive.
DO: Be patient! The pain might not be coming from exactly where you think it is. Keep trying until you find relief delivered. For example, some women find no relief from menstrual cramps when the patch is placed on their stomach and better results when they place it on their back.
DO: Keep Jovi in a safe spot. We recommend your purse, nightstand drawer, in the car, or anywhere you can easily reach for relief when you need it.
DO: Wash Jovi when she gets grody with a clean, damp cloth, soap, and alcohol-free cleaner when needed. Rinse and dry with a clean cloth.
THE DON'TS
DON'T: Wash Jovi in a washing machine or use alcohol-based cleaners on your patch. Cleaning with a damp cloth is perfectly fine!
DON'T: Get discouraged if you don't feel relief right away. Jovi works differently for everyone, and it might take a few minutes before you find the right spot! For chronic pain, this timeline might be even longer. If you have not felt relief after wearing the patch for 24 hours, please contact our incredible customer support team for help!
DON'T: Worry if you feel a warm, cool, or tingly sensation. That's just Jovi doing its job!
DON'T: Spend another second suffering. Relief from menstrual cramps is finally here!
---