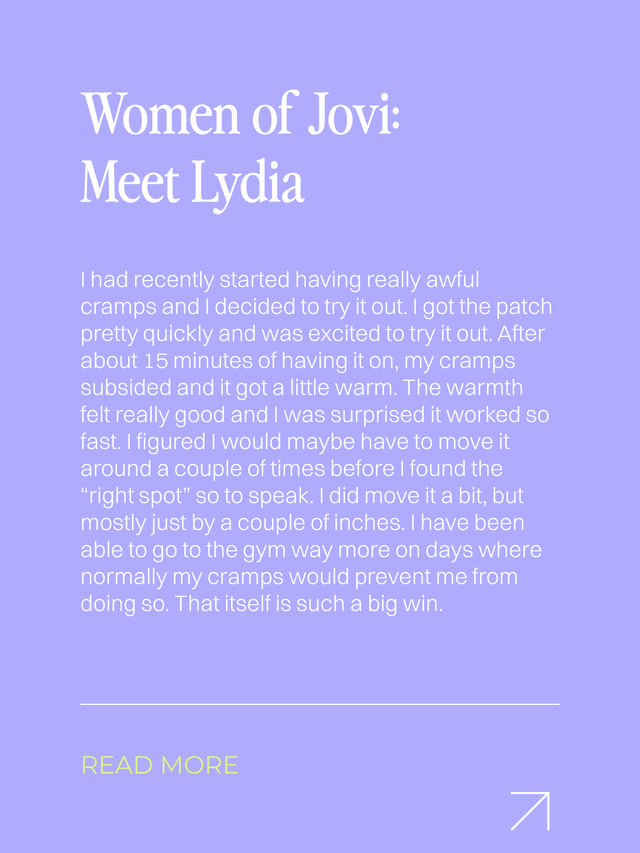 Women of Jovi: Meet Lydia
The Women of Jovi series highlights real members of our community who are experiencing life-changing relief and living lives full of possibility thanks to Jovi's incredible technology. 
---
I got the Jovi after I saw Sydney (@Divineontheroad) recommend it on IG for period cramps. I read about the return policy and decided it was worth trying. If it didn't work I could return it and get a refund. Well, let me just say that I am SO grateful I didn't miss her story, or I'm not sure I would have come across the Jovi patch on my own.
I had recently started having really awful cramps and I decided to try it out. I got the patch pretty quickly and was excited to try it out. After about 15 minutes of having it on, my cramps subsided and it got a little warm. The warmth felt really good and I was surprised it worked so fast. I figured I would maybe have to move it around a couple of times before I found the "right spot" so to speak. I did move it a bit, but mostly just by a couple of inches. I have been able to go to the gym way more on days where normally my cramps would prevent me from doing so. That itself is such a big win.
I have digestive/autoimmune issues that tend to come on at random intervals during the day and at bedtime. I realized the patch may help with this as well. One night when I was going to bed and was not feeling well, I put the patch on my stomach area. I tucked it into my night shorts (with no adhesive), and after I didn't feel nearly as sick. I was really pleasantly surprised and relieved. Since that discovery I have used it many times at night and end up wearing it as I sleep. I believe it has saved me from nights that may have been a lot more restless if I didn't have the patch. 
"This little patch is powerful"
I have used the patch during the day on hikes, while I sit and meditate and generally whenever I have some discomfort on my lower/mid-back, cramps, or pelvic discomfort.
My older sister called me over one day because she woke up unable to move much or bend over. I used to be a massage therapist, so I went over and worked on her back. Afterwards, I gave her the Jovi patch to use in case it flared up again. She told me the patch helped her go through the rest of the day and she really liked how it warmed up.
Since I have gotten the patch I have recommended it to other women who I know have pretty awful cramps.
I am in graduate school but also work a part time physical job training dogs. It would be difficult and a bit of a liability to wear something larger than the Jovi patch at work (say like these new small portable tens units for cramps) where I am running around, lifting things, cleaning, and having dogs jump on me, run into me, etc.
This patch is so discreet most of the time no one knows I'm wearing anything on me when I'm working, and there are no wires that a dog could easily chew and destroy, or just completely rip off accidentally. I wore it to work last week and it really helped me get through my shift.
This little patch is powerful, and although I still need to take NSAIDs and use a hot water bottle at times, this has helped immensely on the days where the discomfort is just enough to be driven to distraction.
---
Our stories make us stronger.
Tell us yours: hello@meetjovi.com