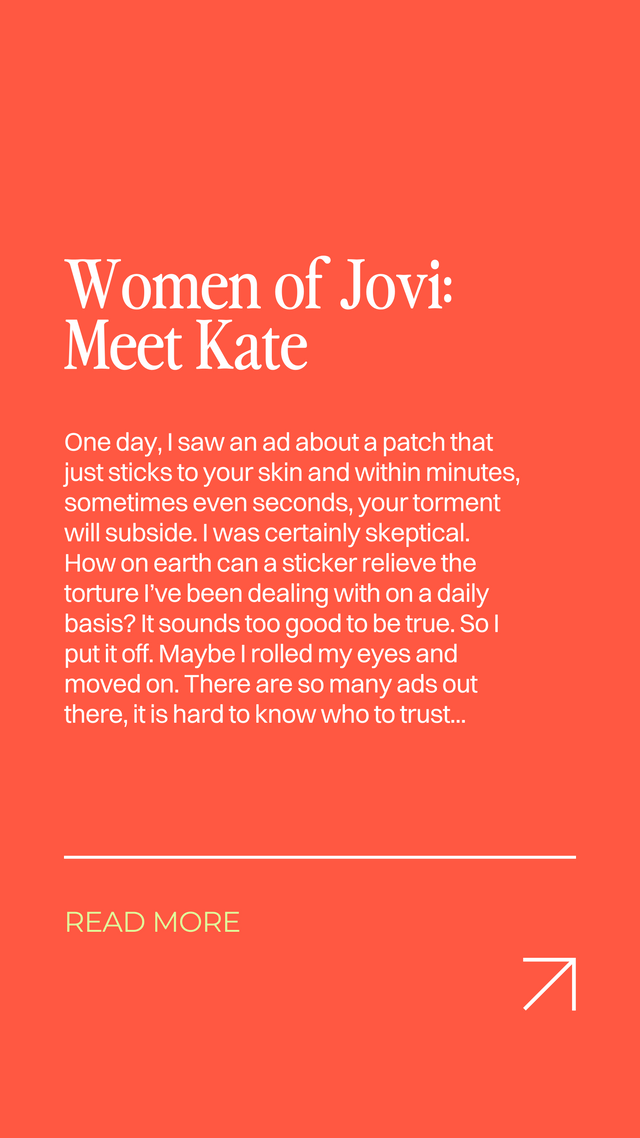 Women of Jovi: Meet Kate
I have struggled with discomfort from period cramps and back aches since I got my first period at age 11. Like so many other women, I have also had some run-ins with those pesky ovarian cysts that cause such agony. As I've gotten older, my back aches have become far more prominent, causing me to rely on over the counter medications, heating pads, and even calling out of work from time to time. I work on my feet in an active role that requires me to be able to bend, lift heavy objects and stand for sometimes 6-8 hours a day. I am also an artist in my spare time. I am the kind of person who will try to push past a setback like this but it wasn't just affecting my work life. I would go weeks without working on my art because I needed to rest on my days off. I was turning down going out with friends because of the agony I was experiencing from my back. I mean, you can't exactly walk around town with a heating pad taped to your back, can you?
One day, I saw an ad about a patch that just sticks to your skin and within minutes, sometimes even seconds, your torment will subside. I was certainly skeptical. How on earth can a sticker relieve the torture I've been dealing with on a daily basis? It sounds too good to be true. So I put it off. Maybe I rolled my eyes and moved on. There are so many ads out there, it is hard to know who to trust. But then, there was one day when I finally was at my wits end and just about ready to try anything. I was literally researching acupuncture, hypnosis, really any alternative to medication as I was maxed on the daily OTC meds. And what popped up on my search, but the Jovi patch. Weighing the possibilities in my head, I decided to go for it. Yes, at the time, the price felt high but if it worked, how could you put a price tag on it? It was risk free. I could try it for a few weeks and if it didn't make a difference, I could send it back.
The first week, I was second guessing it. In my head, I was like, "Maybe it's the placebo effect?" But no, I honestly think it works. I put it on every morning as a preventative measure and have been able to get through most days without even thinking about my back or cramps. It's truly amazing to me that this is even possible. I have gone on to use the Jovi patch for far more than it is advertised for. I used it when I fell on the ice this winter and hurt my knee, on sore muscles in my shoulders, and even held it to my face (without the adhesive) when I had a really intense sinus infection. Sweet relief. My only regret now is that I didn't get a second patch for when I have two spots in need of alleviation. 
I can't wait to see where Jovi goes with this product because it truly could help so many. 90% of the time, with the patch on, I no longer require OTC relievers. Sometimes it takes me a few tries to pinpoint the part of my body where the discomfort is stemming from but once I find it, I'm golden.
---
Our stories make us stronger.
Tell us yours: hello@meetjovi.com 
Signal Relief and Jovi are general wellness products intended to help promote physical activity and a healthy lifestyle. Jovi does not claim to treat, cure, or diagnose disease.