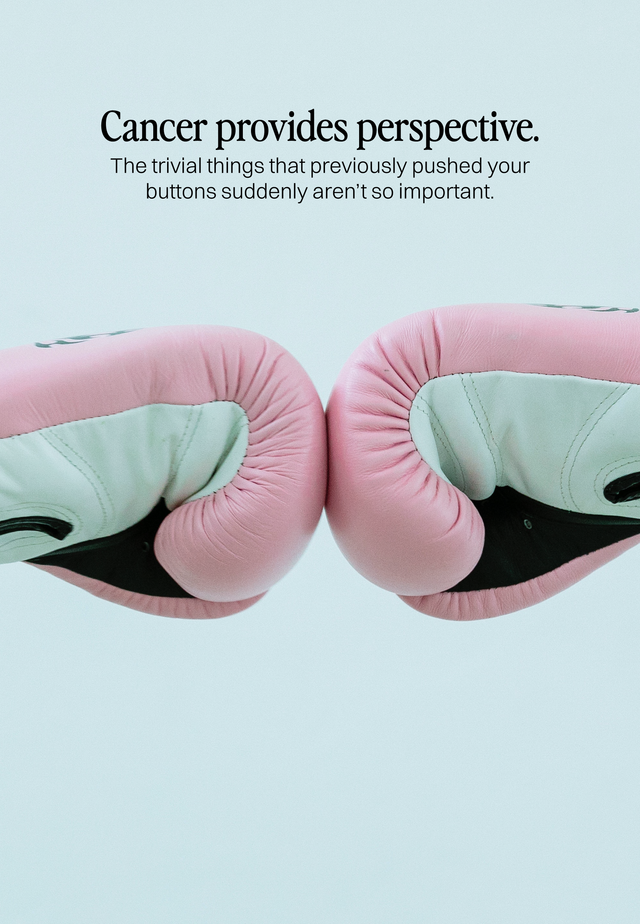 Breast Cancer: From Surviving to Thriving
Healing mind, body, and soul after breast cancer diagnosis and treatment
Tami thought that she should be elated that her breast cancer treatment was completed. Her surgery was four months ago, the radiation finished two weeks ago, and she didn't need chemotherapy. Her skin did not burn, her cosmetic results were excellent, and she didn't lose her hair. She arrived for her first post-treatment appointment at her doctor's office and couldn't figure out why she was having trouble "keeping it together". But now here she was back in the office, where this journey began, and she was falling apart because of her FEAR.
She could be any patient after any prescribed course of treatment that has just hit a speed bump in the road of her cancer journey and didn't know what to do. 
Caring for women and men with breast cancer for more than 35 years I have come to recognize "The Cliff." Everyone who goes through the treatment of breast cancer, or any cancer for that matter, arrives at this place when the medical treatment of his or her cancer is complete. 
The cliff is that place that breast cancer patients reach anywhere from two weeks to two months after their treatment has finished. It is when another level of fear sets in and rational thinking flies out the window. Somehow being in ACTIVE treatment is like a security blanket since they are actually doing something to "treat" the cancer. Suddenly when they are done and a new unfamiliar 'normal' awaits. The life they knew before the diagnosis of breast cancer has become part of their past and new life is currently plagued with fear. Most of the time they try to keep their game face on for their friends and family, but in reality, they are standing at the edge of the cliff scared that they are about to free-fall to an unknown destination. 
---
There are three options for those with cancer who find themselves on the cliff, looking out toward their unknown future. 
Option 1: Remain paralyzed with fear on the edge of the cliff, hanging on for dear life. 
Fear is really False Evidence Appearing Real. It is our mind getting the best of us. The relentless ticker tape of the brain is replaying every decision: Should I have had a mastectomy? Should I have had whole breast radiation therapy? Maybe chemotherapy would have benefited me... Is my cancer coming back? How will it be found if it does? Am I going to see my children grow up? Will I ever have control of my life? 
Option 2: Free fall to the ground, landing wherever you land, smacking your head as you hit. 
Surrendering to the cancer and believing that no matter what you do you are doomed creates a sense of hopelessness, helplessness, and despair that others can feel when you walk into the room. (Like Eeyore from Winnie the Pooh.) 
Option 3: Strap on a pair of wings and learn to fly.
This is by far the best choice as I see it. You may not know how to fly initially, but if you choose to don the wings, you will feel the wind beneath you as you take flight and soar from the cliff to the new life that is being created after cancer. 
Option 3 requirements:
Release the fear. Fear paralyzes our lives and robs us of our most precious commodity, our joy. When you have done all that you can to cure your cancer, it's time to let go of the fear of it coming back and begin to be present in the moment, for that moment is truly all that any one of us is guaranteed. Spending days worrying about recurrence doesn't prevent recurrence; it simply robs you of the joy in your life.


Gain perspective. Cancer can be a gift if one chooses to see it as such. Cancer provides perspective. The trivial things that previously pushed your buttons suddenly aren't so important. Priorities realign and survivors are forced to make themselves the most important person in their life so that they can care for those they love. We all have baggage in our lives and cancer affords the opportunity to clear clutter that some may have been holding on to for way too long. When you can connect with passion in work then your heart can begin to sing a new song.


Find peace. Creating a purpose-driven life allows survivors to feel meaning in all that they do. Sometimes it takes perseverance to create the changes to truly heal. In the end, it is all about creating joy in every day and finding peace in your heart. Give yourself permission to live the life that you want.  
---
So let's get back to Tami. After her exam and the reassurance that she had completed her prescribed breast cancer treatments, she could move forward to meet her healing needs. She needed a reminder that although she was fortunate to not need chemotherapy or to lose her breast, she still needed to allow herself to "heal". She was experiencing a bit of survivor's guilt as she had met so many women and men on her journey who had a much more tumultuous course of treatment. She was also keenly aware that her life had been altered by the diagnosis of cancer, and although her physical appearance had not changed, she was a different person because of her experience. Others around her assumed that she would go back to her pre-cancer "normal." But Tami's new normal is different, and can be amazing if she is able to see the gifts that her diagnosis had brought her. 
My Recommendations: Embrace Body/Mind/Spiritual Healing 
Pack BC ( Before cancer) baggage and get rid of it! 

Embrace forgiveness. We forgive for ourselves—not for others—and then let it go. 

Become the number one priority in your AD (after diagnosis) life, centered on self

Rid your life of "energy vampires"

Love yourself exactly as you are at this moment 

Realize that self-love will attract more love and joy in your life

No one is guaranteed tomorrow. Be present in the moment as it is truly the 'gift'
By loving oneself exactly as they are, it is then, and only then, that a breast cancer survivor can become a THRIVER!